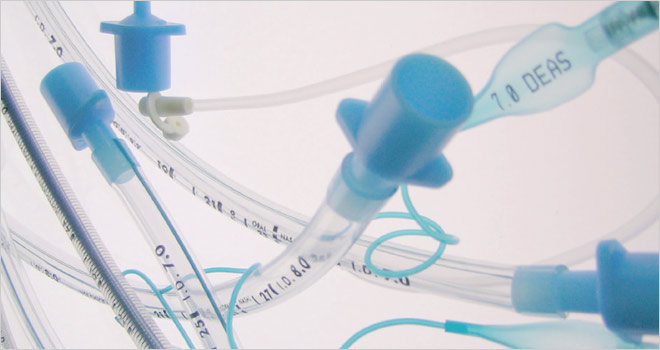 DEAS offers a complete range of Phthalates and Latex Free Tracheal Tubes suited for different applications.
DEAS tracheal tubes are made of a special thermosensitive PVC compound  which softens at body temperature to easily conform to airways anatomy.
All tubes have atraumatic smoothly formed tip, 15M connector, Radiopaque Line and Depth Marks.
Types of tracheal tube include Magill design, Cuffed or Uncuffed, Preformed for Oral or Nasal intubations, Reinforced tubes,  in size from 2 to 10 mm.
For long-term intubated patients, we  provide a tracheal tube with a second lumen opening above the inflatable cuff. This allows subglottic secretion drainage which helps reduce the risk of VAP infection.
Features
Graduation mark at each cm.
Longitudinal radiopaque line.
Low pressure, high volume cuff, with thin, delicate walls, ensures effective seal and minimizes the risk of trauma to the airways.
Cutting short marker.
Made of thermosensitive PVC to ensure high flexibility of the tube, and to perfectly fit to the airways.
Murphy eye smoothly formed.
Atraumatic, rounded tip.
Magill shaped body conforming to ISO/EN standards.
Latex Free
DEHP Free
EO Sterile